Source: http://mode.glamourparis.com/alexa-chung-je-nai-aucun-trouble-alimentaire/


Before I say anything else: I absolutely HATE her ugly skinny legs. They scare me.

That being said, I'm jealous of her.

Why?


She's without a doubt a natural beauty.

She's British.

She's going out with Alex Turner (is she still?). He isn't the most handsome guy on the planet but he's way too cool: he's the lead singer of Arctic Monkeys, one of my favorite bands ever. (By the way, Rose officially declared that they were her ultimate favorite band.)

AND she has great style.

That's what I want to talk about. In my opinion, her style is simple but polished, and trendy with a little individual touch that I really like. I wish I could just copy all those looks!



Classy yet casual: flats + neutrals + overdose of necklaces (love the nail color!)


Source: http://www.it-girl.fr/96-alexa-chung-it-look

Chic and oh so cool music festival look: striped top + one of a kind accessories + jeggings (who hasn't a striped top now?!)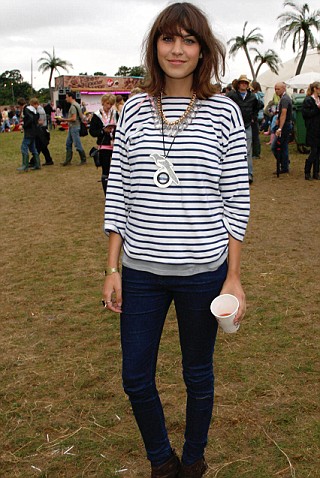 Source: http://img46.xooimage.com/files/5/f/4/alexa-chung-1366b2a.jpg

Rocker meets girly: leather jacket (I wish I could pull off a leather jacket) + polka dot skirt


Source: http://www.listal.com/viewimage/657221

Uncool is cool: grandma top/tunic (oh I think it may be a dress?! no... please no) + small purse + short shorts (let's say so for modesty) + heels
Source: http://www.catwalkqueen.tv/2009/02/galleries/cq_gallery_2009.php?pic=2

Just. plain. pretty: prettiest coat ever + heels + cool boyfriend (but... is he naked under that jacket or what?! haha!)... even the grocery bag looks pretty!
Source: http://lamodeetlebeautemps.blogspot.com/2010/10/alex-turner-street-style_30.html

THE bag: Mulberry Alexa bag + simple outfit (unsure about the cross, though)
Source: http://teemix.aufeminin.com/star/photo-543616-alexa-chung.html

Ultimate girly: bow + lady-like jacket + lace + polka dots + heels (but the Chanel straw bag... one word: why?)


Source: http://www.nittygrittynow.com/alexa-chung-chanel-straw-bag/

Preppy is chic: peter pan collar + sweater + floral skirt


Source: http://www.puretrend.com/media/alexa-chung-alexandra-rochards-et_m419042

Proof you are a style icon: making a overall look that good!


Source: http://www.puretrend.com/media/alexa-chung-est-une-veritable-adepte_m378941



What do you think of Alexa's style? Who inspires you?