Now that you are aware of the importance of eyebrows (if not, see this
post
), let's discuss shape and color.
You probably have seen this kind of picture everywhere to explain how to achieve the
perfect
eyebrow (in this case on the lovely Marilyn Monroe).
pinkosmetics.blogspot.com
Looks easy, right? But based on my experience, if you're anything like me, before starting to pluck, here are some things you need to remind yourself about eyebrows.

Please note: This isn't a step by step guide on how to achieve perfect eyebrows. These are tips I learned over the years that I find useful and that I want to share with you.
Eyebrows aren't twins... they are sisters.
Megan Fox (labellase.com)
Staring with full eyebrows, I had the tendency to over pluck to try to achieve a perfect eyebrow shape. I remember in my late teens, I plucked one eyebrow, then the other would not be perfectly similar, so I plucked the other one, then the first one would not be similar, so I would pluck it again... to end up with almost no eyebrow at all. When I first heard that eyebrows aren't twins but sisters (unknown source), I had an epiphany. I often repeat it to myself, so instead of trying to make my eyebrows perfect, I focus on getting them similar overall, with little imperfections being alright, and maybe even cute!
Eyebrows need to look good... from the whole face perspective.
Jessica Alba (seeceeme.com)
This is a true story. Someone, aware of my obsession with eyebrows, once gave me a little magnifying mirror. Oh nothing too much, maybe like 10 times magnifying. Oops! it was not a good idea. As OCD as I am, I was using it daily it and I would pluck every little hair that was not fitting into the line. But when I would see myself back in the normal mirror, uh oh! I would have over plucked, again. One day a friend confiscated the dreaded mirror for my own good. Moral of this story: It's ok to use a magnifying mirror to help you do a more precise job, but don't forget to go back to the normal mirror while doing it, to see your whole face. Now I use a two times magnifying mirror for my eyebrows. Maximum.
Eyebrows can grow back... but it takes patience.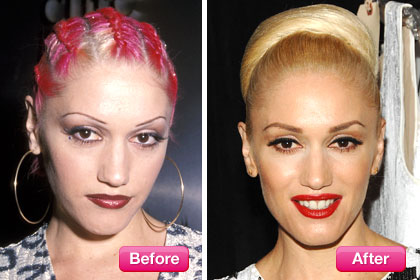 Gwen Stefani in 2000 and 2007 (totalbeauty.com)
First things first: pluck with caution. If you are like me, wait before plucking, to see if the hair is still bothering you the next day. If so, then you can pluck it. But what if you over plucked? Eyebrows can definitely grow back, but 1) it can be very long and 2) it seems some spots just won't grow back. Aside from my scary almost-no-eyebrow experiences, my eyebrows have grown back. I'm actually in the process of making them grow back even more. How to do it without looking like you forgot to do your eyebrows? Let the hair grow back, do not pluck except for the places where the hair is really out of line. You can put a little beige or taupe powder eye shadow on the empty patches if it looks too awful. There might be some hair growing products to help you grow back your eyebrows, but since I do not use them, I won't talk about them. You might want to consult your cosmetician or doctor.
Eyebrows can be dyed... but it could make your eyes "die".
Hayley Williams from Paramore (living.msn.com)
If you ever read the warnings on a box of hair dye, you probably know this. Hair dye is really dangerous for eyes and should not be used to dye your eyebrows. You could go blind. Is that enough of a warning for you? Well, it wasn't enough of a warning for me. Remember my orange eyebrows? If not, read
here
. I also dyed my eyebrows using some facial hair bleach (like Jolen): I would put the mixture on my eyebrows for a minute or two and it would just slightly lighten them and the results were pretty good. If you do decide to dye your eyebrows, be aware that it is dangerous and that you need to be extra careful about your eyes. A cosmetician or a hairdresser is probably the best to do it.
Eyebrows should match your hair... or get close to it.
Scarlett Johansson (disconaplondon.com)
This is something I personally have a hard time with. With my eyebrows naturally being slightly darker than my natural hair color, I thought they were too dark when I dyed my hair blonde. I then learned that eyebrows should match your hair color, with some exceptions. For example, it's ok for a blonde to have darker eyebrows than her hair. If your hair is dyed black, maybe you should consider brown eyebrows, not as harsh as black. But in the end, it all depends on what you like. To color your eyebrows without dyeing them, you can use pencil eyebrow liner, mascara-like eyebrow color, liquid eye shadow or my favorite, powder eye shadow. Remember to go lightly to keep eyebrows looking natural.
Eyebrows look probably best... au natural.
Mary Kate and Ashley Olsen (posh24.com)
Take this tip from the girl that once sported the uni brow, haha! But what I mean is that aside from major eyebrow imperfections, letting your eyebrows close to their natural shape and color might be the best and easiest thing to do. We have seen natural eyebrows coming back in trend and I believe this is a good thing. I am myself trying to grow my eyebrows to their natural shape (but not the uni brow!). It's really a work in progress. Even if there are trends in eyebrows shapes and colors, I think that natural but polished eyebrows will always be appropriate.
Do you have any other eyebrows tips to share?